___________________________________________________________________
Ingles
Once a volunteer commented to me with much sadness, "Mr. Palma, why is that we try to help our fellow man (woman), and try to do good, and yet in the streets there are persons why try to hurt, both verbally and through bad actions." At that moment, I did not know how to answer—more because I saw her facial expressions.
That night, I prayed and asked GOD for his guidance and understanding regarding the volunteer's comments; and then I went to sleep. At daybreak I awoke, as if sleepwalking, I felt someone holding my hand and I began writing. When I finished, I went back to sleep. In the morning and before going to the office, I was directed to the dining room where to my surprise I encountered this prayer that I am sharing with you.
We are protected, if we proclaim it to GOD, in whatever we embark in everyday living. This prayer of faith, given by GOD, is for everyone that serves our fellow man (woman) or encounters providing a service to the community, which is the case of our volunteers—who donate their time to inform the general community; in spite of the fact that they are questioned, criticized and sometimes insulted by persons that do not understand that they are only serving GOD.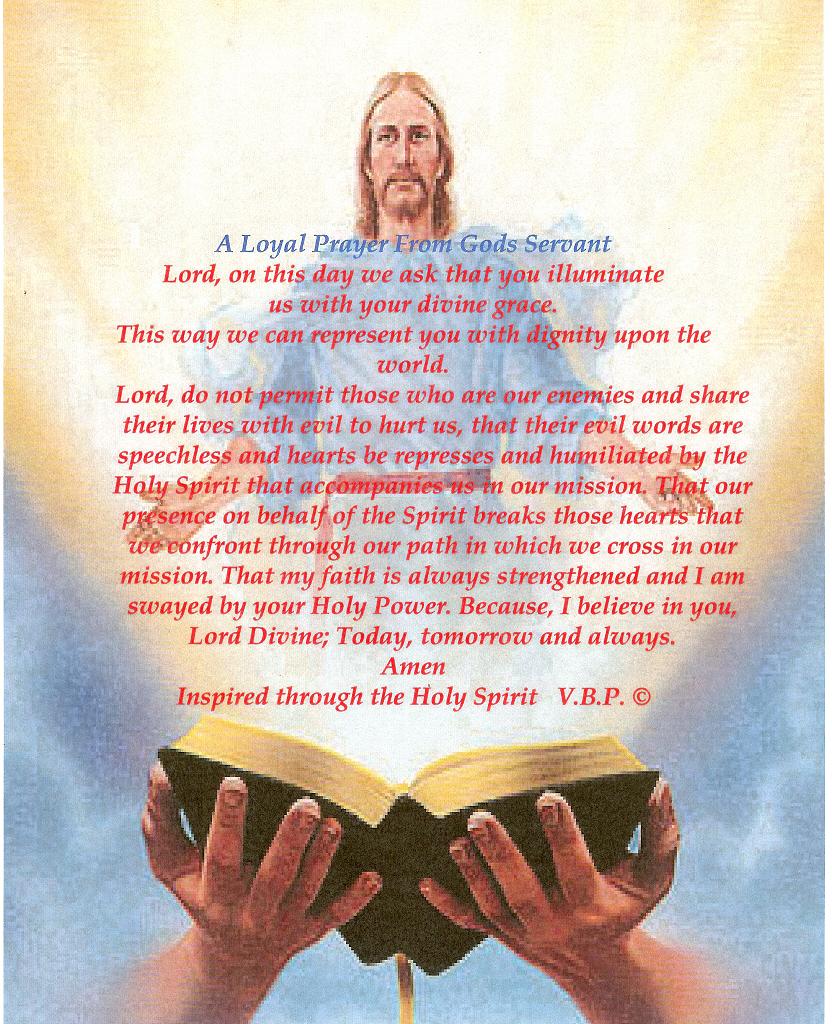 ___________________________________________________________________
Una vez vino a mi presencia, un voluntaria(o), y me comento, con gran tristeza, Sr. Palma, como es que nosotros tratamos de ayudar, a nuestro prójimo, asiendo cosas buenas, y en las calles hay personas que nos lastiman, con malas palabras, y malas acciones, en ese momento no supe, que contestar, mas por el dolor que ella me manifestó, a través de su rostro,Yo, preocupado por la noche, me puse en comunión espiritual con Dios. y le pregunte, lo que el voluntario, me comento, y me fui a dormir, mas por la madrugada, me levante como sonámbulo, como si alguien me llevaba de mi mano y al momento me puso a escribir, y al terminar me fui de nuevo a dormir, por la mañana, cuando me disponía a irme a la oficina, me dirigí, al comedor y me sorprendí, cuando en contre esta oración, que hoy comparto con tigo.
Ya que es una protección si nosotros proclamamos a Díos, en todo lo que nosotros vamos a emprender en nuestro diario vivir.
La oración del fiel ciervo de Dios, es para todas aaquellas personas que sirven de alguna manera al prójimo(a), o que se encuentra asiendo un servicio en benefició de la comunidad, como es el caso de nuestros voluntarios, quienes donan su tiempo para mantener informada ala comunidad en general, mas en veces son cuestionados criticados y en alguno de los casos insultados, por personas que no saben que ellos sólo son siervos de Dios!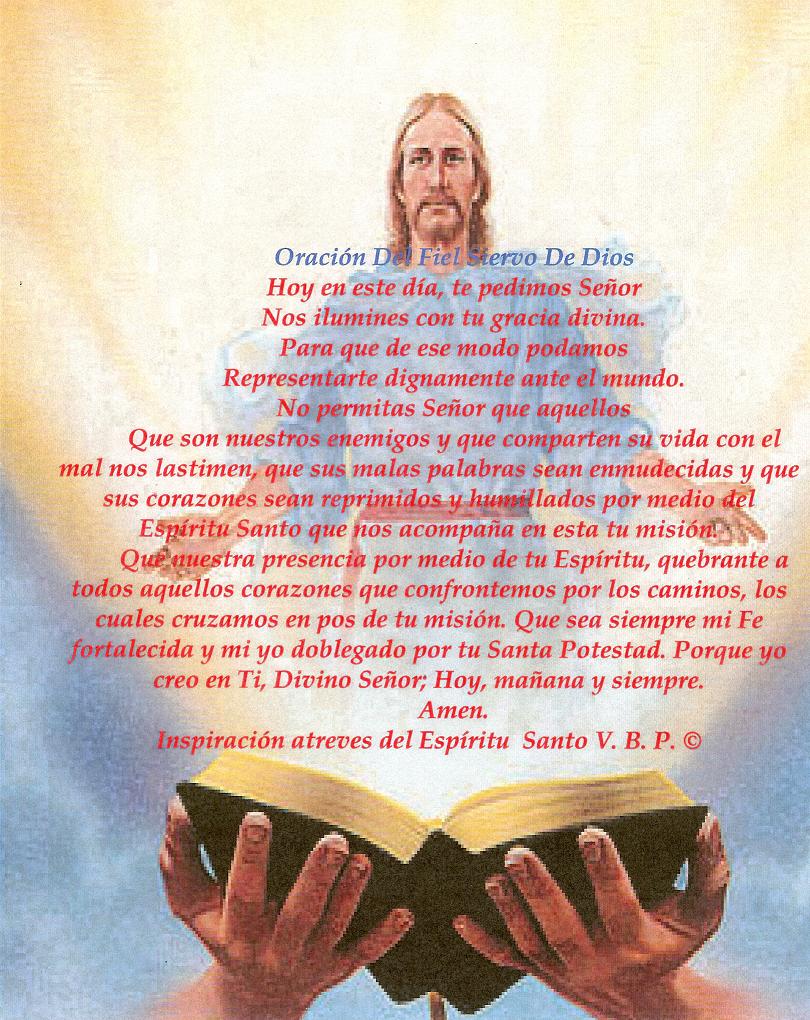 ESTE ES UNA REFLECION DE MI VIDA CUANDO LLEGE A LOS ESTADOS UNIDOS Y HOY LA COMPARTO CONTIGO.
Respetamos todo tipo de creencia, pensamientos y religiones , solo te comparto expresiones que vienen de del fondo de mi corazón, mismo que pongo a los pies de Dios. Y al servicio de todos ustedes, mis hermanos en Cristo Jesús, soy un simple hombre, con un gran deseo de tender su mano amiga, asta donde Dios me lo permita, No soy perfecto, soy simple y el mas humilde de tus amigos, puedo ser si tu corazón así lo desea.
Sinceramente; Victor Palma